Welcome to Scottsdale: Your New Destination for Luxury Living
The market for luxury homes for sale in Scottsdale has never been stronger, find out why residents love living in Scottsdale, Arizona!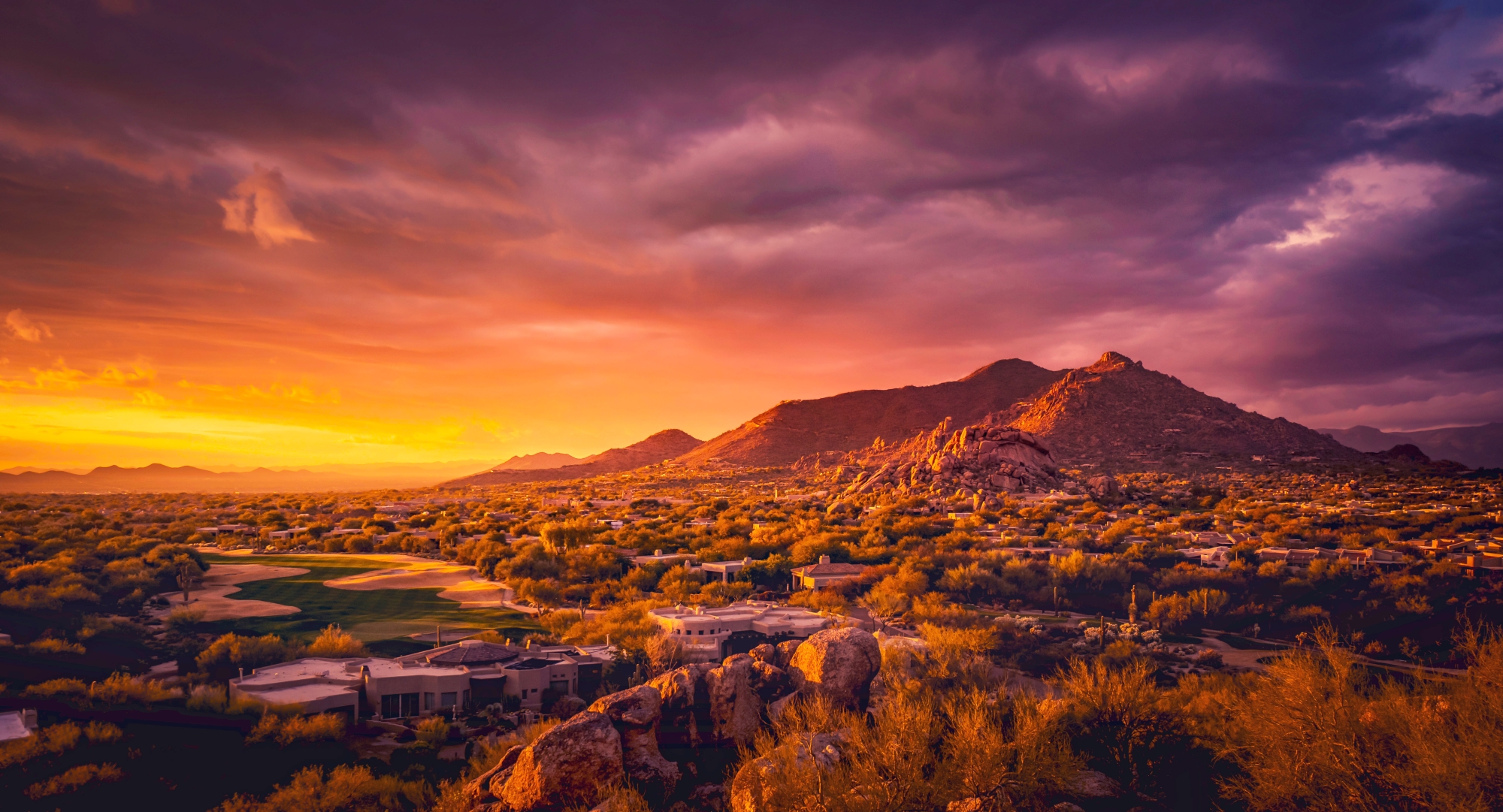 Scottsdale, Arizona is a vibrant city of 250,000. Residents will tell you there's a lot to love about this luxurious desert oasis, and that there's no shortage of luxury homes for sale in Scottsdale; in fact, the Scottsdale real estate market is booming.
Living in Scottsdale doesn't just offer incomparable desert luxury, its neighborhoods are family-oriented, and among the safest in the country. With endless community amenities, it's hard to beat the quality of life that Scottsdale residents enjoy.
No matter which Scottsdale neighborhood they call home, families are minutes away from professionally designed PGA golf courses, world-class shopping, nationally recognized restaurants, and endless hiking trails. And, when it comes to schools, Scottsdale's are among the best in the nation.
And, with roughly 300 days of sunshine a year, and mild winters, there's always an opportunity to enjoy endless outdoor family activities, or just relax by your home's glistening pool and savor the luxury lifestyle that Scottsdale is known for.
As if there weren't enough reasons to love this Arizona city, Scottsdale residents also enjoy spectacular desert sunsets, breathtaking views of the Sonoran desert, and dozens of parks and nature preserves throughout the greater Scottsdale area. To sum things up: Scottsdale has it all!
Living in Scottsdale
Families considering luxury real estate for sale in Scottsdale have the world at their fingertips. Scottsdale is one of the fastest growing cities in the US, but that growth hasn't taken away from the town's modern western charm. It's only added to the quality of life in Scottdale.
Scottsdale's high growth economy, and picturesque desert setting, ensures there's always something to do in town. From the Barrett-Jackson Auto Show, to the Scottsdale Arabian Horse Show, the Scottsdale Culinary Festival, and MLB Spring Training.
The city is also home to a number of museums and cultural centers like the Pueblo Grande Museum and Archeological Park and the Scottsdale Museum of Contemporary Art.
Scottsdale Neighborhoods
When it comes to deciding on the best neighborhoods for Scottsdale luxury real estate, the possibilities are endless. Not only are Scottsdale neighborhoods among the safest in the country, but they all enjoy close proximity to the Mayo Clinic – one of the world's most respected healthcare facilities, specialty grocers like AJ's Fine Foods and Whole Foods, and vibrant, family-friendly restaurants.
When families begin their journey of searching for their next luxury home in Scottsdale, they'll immediately notice the modern hacienda-style architecture throughout the city, and expansive properties nestled among country-club settings.
For families who love to golf, it's worth noting that a number of luxury homes in Scottsdale also sit in neighborhoods with private, members-only golf clubs like the Whisper Rock Golf Club, Desert Highlands Golf Club, Desert Mountain Golf Club, and Estancia Golf Club.
Scottsdale neighborhoods include:
North Scottsdale
Old Town Scottsdale
Grayhawk
Troon North
Gainy Ranch
McCormick Ranch
Desert Highlands
Desert Mountain
Boulders
McDowell Mountain Ranch
Pinnacle Peak
Silverleaf DC Ranch
Estancia
Mirabel
Granite Mountain Ranch
Terravita
Paradise Valley
World Class Shopping
Scottsdale is one of the country's premier shopping destinations. Scottsdale Fashion Square is home to luxury retailers like Bottega Veneta, Louis Vuitton, Bulgari, and Christian Louboutin.
The Scottsdale Quarter and Kierland Commons, both located in North Scottsdale, are open-air shopping areas where residents can "eat, shop, and play". In addition to vibrant, upscale dining, and farm to fork restaurants, Scottsdale Quarter features activities like the Kidz Clubs which provides fun and immersive education and developmental opportunities for kids aged 4-11.
While the kids are enjoying events and activities at the Kidz Club, parents can take advantage of shopping for high-end luxury home goods at stores like Sur la Table, Pottery Barn, and Arhaus, which are right across the street at the Kierland Commons.
Scottsdale Outdoor Attractions
Hiking
Families that love the outdoor lifestyle will appreciate the options they have when it comes to hiking in Scottsdale. The city is home to 103 scenic hiking trails, and was once even named one of the nation's top hiking destinations!
Many Scottsdale hikes are family-friendly, and appropriate for all ages and abilities. McDowell Mountain Regional Park, for example, is an easy scenic family-friendly hike that's great for small children. And hiking Pinnacle Peak, Scottsdale's most popular hike, will give families a 360 degree view of the entire Valley! The mountain is home to desert quail, blooming cacti, roadrunners, and jackrabbits.
Golf courses
Scottsdale is known as one the finest golf destinations in the world, and home to over 200 golf courses. Tourists from around the world visit Scottsdale for its incredible golfing opportunities – it's like the Pebble Beach of the Desert. Nearly every five star hotel in Scottsdale has its own professionally designed course, and all that sunshine means families can golf nearly all year long!
In Arizona, Scottsdale luxury golf real estate is definitely a thing.
Location
Scottsdale is just an hour from the internationally recognized wellness retreats of Sedona, and quaint mountain towns like Prescott and Jerome. Families who love to ski will be happy to know that the snow covered slopes of Flagstaff are just two hours away.
Those that enjoy the jet set lifestyle, will appreciate that Scottsdale airport, and its private jet terminal, are centrally located within the city, and a quick drive from every Scottsdale neighborhood. For international travel, Phoenix's bustling Sky Harbor Airport is less than an hour away.
No matter where you are in the city, your Scottsdale dream home will provide the perfect location for your luxury lifestyle.
Sorry we are experiencing system issues. Please try again.